Property 5 from 7

Next property

Previous property

Back to the overview
Lindau (Bodensee): Villa Lake Constance Germany for sale
Property ID: 2228
Address:
Strasse 0
DE-88131 Lindau (Bodensee)
Bayern
Type of house:
Detached house
Subject to commission:
yes
Furnished:
Partly furnished
Last renovation/ refurbishment:
2013
Quality of fittings:
Regular
Year of construction:
1968
Property description:
Meditteranean Style Estate with Panoramic Views near Lindau, Lake Constance, Germany - the estate lies in a quiet area above Lindau with phantastic panoramic views over the lake and the mountains. The country house - built in 1968 and modernized in 2013 - combines perfectly a Mediterranean design with the typical rustic interior of southern Germany. The cozy ambiance is emphasized by the wooden beamed ceilings in combination with modern technology, oil fired central heating and wrought-iron grills on doors and windows. The two storey building with full basement has a net living area of 300 sq m ( 3.300 sq f) and a total built area of 500 sq m (5.500 sq f) and includes four bedrooms, two full bathrooms, a guest rest room, a comfortable living room with log fire place, a dining room and a country style kitchen with larder and store room. The terrace boasts a translucent roof. In the basement is the boiler room, a room to store fruit and vegetable and a wine cellar.
The 11.268 sq m (2.8 acres) plot has a park like design with old trees, a stone and a rose garden and a small pond. The attractive pool with a sheltered sun terrace can not be looked in and neither is the romantic wooden guest cottage. There is also an interesting baking house with antique tiles and a heatable winter garden, a vegetable garden and fruit orchard. Attached to the main building is a garage for three cars and for machinery etc. there is a large barn; also there is enough place to build stables! - the property is between the nature and it is beautiful land for hacking!
Being located in the "Three Country Triangle" Austria and Switzerland are just a few kilometers away, there are several golf courses in the vicinity, world renowned ski resorts are at the door step and the area is famous for its exquisite gastronomy and excellent shopping.
This is a property for the discerning buyer looking for something special.

Remarks:
The information of the properties presented on our web site is based on the information given by the owners or the sales representant. We have not seen this property ourselves and have relied on the photos and description given to us. We do not, therefore, accept any responsibility for its contents.
We cannot be held responsible for the correctness and the completeness of the information. The offer is subject to prior sale. Errors reserved.

General business conditions:
The information supplied on this web page is based on representations made by the owner. Consequently, Mara's World Solutions S.L, can not be held responsible for incomplete or incorrect contents. The advertised properties are subject to prior sale.
Please read our General Terms and Conditions. When enlisting our services you confirm having read, understood and accepted our Terms and Conditions.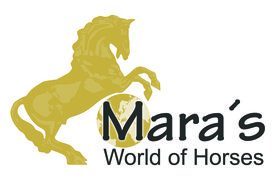 Maras World of Horses - by Maras World Solutions S.L.
Mobile phone:
(0034) 609323347

Back to the overview