Property 10 from 51

Next property

Previous property

Back to the overview
Chiclana de la Frontera: studfarm, ranch for sale in Andalusia, Costa de la Luz near Chiclana de la Frontera
Property ID: 14019CC
Address:
ES-11130 Chiclana de la Frontera
Cádiz
Andalucía
Kitchen:
Fitted kitchen, Open
Bathroom:
Shower, Bathtub, Window
Quality of fittings:
Regular
Construction phase:
House complete
Heating:
One storey heating
Type of heating system:
Alternative
Property description:
The Perfect Gentleman's Studfarm near Chiclana de la Frontera
The "Guardiola" blood line is one of the best known of PRE-horses in Spain and of which there are presently five stallions and about forty mares and foals on this outstanding stud farm with state-of-the-art equestrian installations spanning over 420.000 m² of fertile pastures and buildings. The immediate impression when arriving at the stud is: "Wow, what a super and beautiful place!" Everything is just perfect beginning with the tarmacked communications between the buildings, the 16 well laid out horse boxes, the open stables for over 25 brood mares, the staff accommodation with three bedrooms and two baths, the huge barn with insulated roof for hay and straw, the 20 x 20 meter multipurpose hall which easily can be converted into a perfect covered riding manège, the 20 x 50 meter open air manège, the four artesian wells dating back to the ages of arabic rule, the original bodega ever luring the visitor the sample a delicate "fino", and, of course, the beautiful mansion in the traditional andalusian architecture with wooden beamed and with clay tiles covered ceilings. There is a large lounge with open log fire place and integrated dining area, a well-appointed kitchen, two spacious double bedrooms sharing one bathroom. A staircase leads to a large gallery room with pool table and opening to a roof terrace which is prepared for the construction of another two master bedroom suites.
Part of the farm produces wheat but most of it is reserved for pastures for the horses. There is also a vegetable garden, a small vineyard producing the delicious moscatel grapes, orange and other fruit trees. The next village with shops, banks, restaurants etc. can be reached by foot and the beaches of the Costa de la Luz are just half an hours away. The farm is sold fully furnished and equipped including all machinery.
If you are dreaming to live with horses in heaven this is probably the closest you ever will get to.

In order to protect the privacy of the owner we give only the approximate location of the property on the map. We will be happy to provide further information and photos on request.
Proof of capital will be required by the vendor!

ADVICE: When inquiring about a property it is ABSOLUTELY NECESSARY to include your phone number because in case that your e-mail address is erroneous or your incoming box is full or our mail ends up in your spam folder without your phone number there is no way to contact you. Thank you.

Miscellaneous:
Please take note:
- immo1click is realizing the advertising in the name of: Maras World Solution S.L., www.mara-lisa.com
- we have not seen this property ourselves and have relied on the photos and description given to us. We do not, therefore, accept any responsibility for its contents.

According to Law in Andalusia, additional costs will be charged to the buyer like VAT, estate transfer tax, costs of public registry of property and notary (official decree 218 - Oct 11th, 2005 'Ficha Informativa')

Remarks:
The information of the properties presented on our web site is based on the information given by the owners or the sales representant. We have not seen this property ourselves and have relied on the photos and description given to us. We do not, therefore, accept any responsibility for its contents.
We cannot be held responsible for the correctness and the completeness of the information. The offer is subject to prior sale. Errors reserved.

General business conditions:
The information supplied on this web page is based on representations made by the owner. Consequently, Mara's World Solutions S.L, can not be held responsible for incomplete or incorrect contents. The advertised properties are subject to prior sale.
Please read our General Terms and Conditions. When enlisting our services you confirm having read, understood and accepted our Terms and Conditions.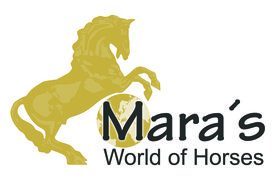 Maras World of Horses - by Maras World Solutions S.L.
Mobile phone:
(0034) 609323347

Back to the overview