Property 6 from 24

Next property

Previous property

Back to the overview
Sevilla: Fantastic Finca, country-horse-property, perfect for B&B, Andalusia, 1 hour north of Sevilla
Property ID: 15052
Address:
ES-41009 Sevilla
Andalucía
Subject to commission:
yes
Bathroom:
Shower, Bathtub, Window
Suitable as holiday home:
yes
Quality of fittings:
Regular
Construction phase:
House complete
Property description:
Ideal B&B and Equestrian Property 1 hour north of Sevilla
the town is a popular destination for rural tourism in the heart of the natural park of the Sierra Norte de Sevilla. Situated at an altitude of 555 m.a.s.l. the town enjoys a temperate climate throughout the year. With a population of just under 7.000 inhabitants and at 87 km to Sevilla the town has a lot to offer including an excellent infrastructure with a major hospital, shops, restaurants, banks etc. There is public transport by bus from the town and train service from Lora del Rio at about 25 km to Seville. The international airport of Seville can be reached in about 45 minutes.
The farm (finca) lies just 4.5 km outside the town and has excellent tarmacked road access. The slightly hilly property extends over 230.000 m² (66 acres) of which 17 acres are grazing land for sheep, 1.2 ha are woodland with oak trees and 35 acres are represented by an olive plantation. The remaining 11 acres are used for buildings and gardens. There are four major buildings: the main house built on two floors and 400 m² of construction. Then there are two barns/stables with 200 m² each and the original stable block with just over 100 m2. There are a total of 12 horse boxes. The main house has a total of 7 bedrooms and 4 bathrooms with the entrance hall, the very large dining and living room, an American style kitchen and one double bedroom and a bathroom on the ground floor. On the upper floor is an ample lounge with open fire place, 6 spacious double bedrooms and 3 bathrooms. This building has been completely renovated and is in excellent state of repair and has central heating throughout.
The two barns are used for the storage of animal food and as stables for horses and sheep. The owner has presented an application to the town hall to convert the barns into a total of 10 tourist apartments which will increase the capacity to 17 bedrooms. The fourth building - the original horse stable block - has partly been converted into a cozy multi-purpose party room. On one side, there are still 5 horse boxes.
To the south are lovely gardens with a large swimming pool surrounded by an abundance of fruit trees. The property has mains electricity and the water is provided by three springs producing plenty of drinkable water for house and garden. The property farms cork, ecological olives and up to 60 sheep thus qualifying for a EU-subsidy of between EUR 5,000 and EUR 9,000 annually. All buildings are legal, the property has a license for rural tourism. The farm is being sold in its present condition including all existing furniture and equipment.

Miscellaneous:
Mara's World of Horses is a real estate online agency offering horse- and countryproperties, fincas, studfarms, equestrian centers, villas and beautiful hotels worldwide - especially in Andalusia/ southern Spain! Have a look at our website www.country-properties-worldwide.com - for more info please send us an email info@mara-lisa.com
Remarks:
The information of the properties presented on our web site is based on the information given by the owners or the sales representant. We have not seen this property ourselves and have relied on the photos and description given to us. We do not, therefore, accept any responsibility for its contents.
We cannot be held responsible for the correctness and the completeness of the information. The offer is subject to prior sale. Errors reserved.

General business conditions:
The information supplied on this web page is based on representations made by the owner. Consequently, Mara's World Solutions S.L, can not be held responsible for incomplete or incorrect contents. The advertised properties are subject to prior sale.
Please read our General Terms and Conditions. When enlisting our services you confirm having read, understood and accepted our Terms and Conditions.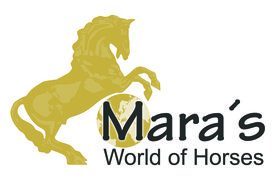 Maras World of Horses - by Maras World Solutions S.L.
Mobile phone:
(0034) 609323347

Back to the overview