Property 10 from 64

Next property

Previous property

Back to the overview
Arcos de la Frontera: romantic Cortijo-Hotel in Andalusia, Cadiz, Jerez, Arcos for sale
Property ID: 15045
Address:
ES-11630 Arcos de la Frontera
Cádiz
Andalucía
Living space:
2.000 sq. m.
Plot size:
3.700.000 sq. m.
Useable area:
1.000 sq. m.
Number of parking spaces:
5 x Garage
Quality of fittings:
Regular
Year of construction:
1754
Construction phase:
House complete
Type of heating system:
Alternative
Property description:
Traditional Andalusian Cortijo Hotel near Arcos de la Frontera, Cádiz, Spain
Surrounded by over 400 ha (1,000 acres) of gently rolling terrain the origins of this beautifully preserved boutique hotel dates back to the year 1754. Over the years the hotel has been modernized and comprises today 15 guest rooms each with its own bathroom and the owner's accommodation with another 5 bedrooms and baths. There is a total built area of approximately 1,700 m² (19,000 sq f) including the rustic reception room, the cozy restaurant and several other rooms including a small conference room. The central patio is full of flowers and the dense foliage of the creepers provide welcome shade in the hot summer months. On the grounds are a total of 8 cottages with varying numbers of bedrooms, a chapel and an equestrian center with 8 horse boxes, a barn for horse feed and machinery and a riding arena. The ample terraces include a 10 x 9 meter pool. There is warm/cold air conditioning throughout in the hotel and in the lounge and some other rooms are the original log burning fire places.
Besides the hotel the farm is an ongoing agricultural business with 150 ha ( 375 acres) being used for growing cereals and sunflower, another 20 ha (50 acres) are olives, most of them over 100 years old and the remaining land is reserved for pastures and forest. The typical annual harvest produces 200,000 kgs of wheat, 100,000 kgs of sunflower seeds and between 20,000 and 50,000 kgs of olives. The farm receives a EU subsidy amounting to EUR 50,000 EUR 60,000 p.a. and if the hunt for rabbit, hare, partridge and pigeons is rented this will produce another income of EUR 35,000 p.a.
The hotel is offered for sale with 400 ha of land for EUR 12,000,00, with 100 ha of land for 9,000,000 and with 6 ha for EUR 6,000,000.

Miscellaneous:
With pleasure "Mara"s World of Horses" presents to you ed horse properties, fincas, villas and beautiful hotels worldwide - especially in Andalusia/ southern Spain!
on our WEBSITE you will find: villas, houses, townhouses, country and horse properties, studs, farms, and haciendas all over the world and especially in Andalusia! If you are looking for something special - please send us an email to info@mara-lisa.com!
Remarks:
The information of the properties presented on our web site is based on the information given by the owners or the sales representant. We have not seen this property ourselves and have relied on the photos and description given to us. We do not, therefore, accept any responsibility for its contents.
We cannot be held responsible for the correctness and the completeness of the information. The offer is subject to prior sale. Errors reserved.

General business conditions:
The information supplied on this web page is based on representations made by the owner. Consequently, Mara's World Solutions S.L, can not be held responsible for incomplete or incorrect contents. The advertised properties are subject to prior sale.
Please read our General Terms and Conditions. When enlisting our services you confirm having read, understood and accepted our Terms and Conditions.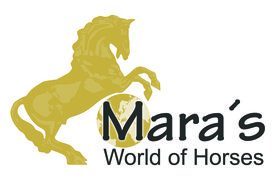 Maras World of Horses - by Maras World Solutions S.L.
Mobile phone:
(0034) 609323347 - (0034) 609608899

Back to the overview