Property 15 from 59

Next property

Previous property

Back to the overview
Casares: Equestrian property, countryproperty, finca, Estepona, Costa del Sol, Andalusia for sale
Property ID: 17023
Address:
ES-29690 Casares
Málaga
Andalucía
Kitchen:
Fitted kitchen, Open
Bathroom:
Shower, Bathtub, Window
Quality of fittings:
Regular
Property description:
Exceptional Equestrian Property near Estepona, Casares, Costa del Sol, Andalusia for sale
The property lies just a few minutes from the beaches of the Costa del Sol with abundance vegetation and overlooking the rolling hills of the Andalusian hinterland. The land of 850.000 m² slopes down from the tarmacked entrance road to a river carrying plenty of water all year round. On the upper part of the property a state-of-the-art equestrian facility was built including 7 spacious Röver&Rüb horse boxes, a laboratory, an open stable area and storage. There also is the possibility to add 7 new boxes and to extend the existing building to incorporate 10 to 12 more horse boxes complying with the license for 25 horses. Outside are several large paddocks with covered feeding area and a round pen. An existing permit allows for the construction of a 20 x 60 meter riding arena. The building includes two separate residences with fully equipped kitchens and bathrooms. A separate construction permit has been obtained to build another residence with an area of 400 m2. On the lower part of the property surrounded by an extensive mandarin and fruit orchard and closer to the river an old farm building has been completely renovated serving as the ideal guest accommodation. The property has plenty of water and electricity is supplied by solar panels but mains electricity is also possible.

In order to protect the privacy of the owner we give only the approximate location of the property on the map. We will be happy to provide further information and photos on request.
Proof of capital will be required by the vendor!

Here you can see all our equestrian properties offered by Maras World of Horses on a Map: http://bit.ly/ReitimmobilienGoogleMap

ADVICE: When inquiring about a property it is ABSOLUTELY NECESSARY to include your phone number because in case that your e-mail address is erroneous or your incoming box is full or our mail ends up in your spam folder without your phone number there is no way to contact you. Thank you.

Miscellaneous:
Please take note:
- immo1click is realizing the advertising in the name of: Maras World Solution S.L., www.mara-lisa.com
- we have not seen this property ourselves and have relied on the photos and description given to us. We do not, therefore, accept any responsibility for its contents.

According to Law in Andalusia, additional costs will be charged to the buyer like VAT, estate transfer tax, costs of public registry of property and notary (official decree 218 - Oct 11th, 2005 'Ficha Informativa')

Remarks:
The information of the properties presented on our web site is based on the information given by the owners or the sales representant. We have not seen this property ourselves and have relied on the photos and description given to us. We do not, therefore, accept any responsibility for its contents.
We cannot be held responsible for the correctness and the completeness of the information. The offer is subject to prior sale. Errors reserved.

General business conditions:
The information supplied on this web page is based on representations made by the owner. Consequently, Mara's World Solutions S.L, can not be held responsible for incomplete or incorrect contents. The advertised properties are subject to prior sale.
Please read our General Terms and Conditions. When enlisting our services you confirm having read, understood and accepted our Terms and Conditions.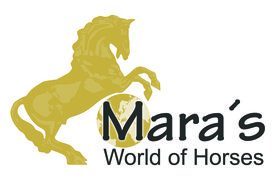 Maras World of Horses - by Maras World Solutions S.L.
Mobile phone:
(0034) 609323347 - (0034) 609608899

Back to the overview