Property 50 from 60

Next property

Previous property

Back to the overview
San Sebastian: Water mill with horsestables, Spain, San Sebastian for sale
Property ID: 17032
Address:
ES-20001 San Sebastian
Guipúzcoa
País Vasco
Kitchen:
Fitted kitchen, Open
Bathroom:
Shower, Bathtub, Window
Suitable as holiday home:
yes
Quality of fittings:
Regular
Construction phase:
House complete
Property description:
Water mill with horsestables near San Sebastian,
Very special 4 bedrooms XVIII century water mill in a 20 hectares land with 13 horse boxes and a 70x30m sand track It's at 20 minutes from San Sebastian and at 30 km from the French border in N-1 road. Main house is a comfortable English countryhouse style decoration with underfloor heating and limewash walls. There is a town 10 minutes walking and you drive to San Sebastian in 20 minutes. Closest airports are: San Sebastian, Bilbao and Biarritz. Surrounded by forest the property is inside 3 hectares of land. Main house is a watermill built by 1750 on a riverbank that has been milling corn and wheat until 1963. The river runs at the back of the house and creates a waterfall visible from the dining room and one of the bedrooms, where to find trouts, grey herons and ducks quite often. Every window of the house has its own scene, all of them have wonderful views to the forest. It has 2 floors, in the basement, there is an entrance hall, with a living room on the left and a fully equipped kitchen and dining room on the right. There is also a half bathroom and a library area with a desk and wifi.There're two fireplaces in the basement: one in the living room and another one in the dining room. Besides there is a radiant floor heating provided by gas. On the first floor there are 3 double bedrooms with 2 beds each, enclosed full bathrooms (with bathtub) and enclosed dressing rooms. The last floor is a slope ceilings penthouse used as another double beds bedroom (with no enclosed bathroom).At 50meters from the main house, there's an Equestrian centre with 13 estables, fields and a silica sand track. Each estable of 3x3m has an automatic waterer and an individual paddock to let the horse to walk all day long. Tack room, rug room, feed room, hay barn, lorry parkingThere is a large garden around the house. There are restaurants quite close, a Church and beautiful footpaths around for easy walks towards the towns nearby or to the hills. Within 15 minutes: Food shops, aesthetic centre, bank, library, and shopping centre with cinemas, golf club, minigolf, tennis courses, swimming pools, horse racing hippodrome, indoor karting, amusement park, and even a nature reserve park.
In order to protect the privacy of the owner we give only the approximate location of the property on the map. We will be happy to provide further information and photos on request.
Proof of capital will be required by the vendor!

Here you can see all our equestrian properties offered by Maras World of Horses on a Map: http://bit.ly/ReitimmobilienGoogleMap

ADVICE: When inquiring about a property it is ABSOLUTELY NECESSARY to include your phone number because in case that your e-mail address is erroneous or your incoming box is full or our mail ends up in your spam folder without your phone number there is no way to contact you. Thank you.

Miscellaneous:
Please take note:
- immo1click is realizing the advertising in the name of: Maras World Solution S.L., www.mara-lisa.com
- we have not seen this property ourselves and have relied on the photos and description given to us. We do not, therefore, accept any responsibility for its contents.

Remarks:
The information of the properties presented on our web site is based on the information given by the owners or the sales representant. We have not seen this property ourselves and have relied on the photos and description given to us. We do not, therefore, accept any responsibility for its contents.
We cannot be held responsible for the correctness and the completeness of the information. The offer is subject to prior sale. Errors reserved.

General business conditions:
The information supplied on this web page is based on representations made by the owner. Consequently, Mara's World Solutions S.L, can not be held responsible for incomplete or incorrect contents. The advertised properties are subject to prior sale.
Please read our General Terms and Conditions. When enlisting our services you confirm having read, understood and accepted our Terms and Conditions.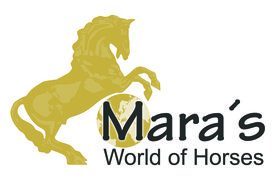 Maras World of Horses - by Maras World Solutions S.L.
Mobile phone:
(0034) 609323347 - (0034) 609608899

Back to the overview