Property 14 from 84

Next property

Previous property

Back to the overview
Jerez de la Frontera: country horse property Jerez Cadiz for sale
Property ID: 2005
Address:
ES-11405 Jerez de la Frontera
Cádiz
Andalucía
Bathroom:
Shower, Bathtub, Window, Bidet
Suitable as holiday home:
yes
Number of parking spaces:
4 x Carport
Quality of fittings:
Regular
Year of construction:
1992
Construction phase:
House complete
Type of heating system:
Electric
Property description:
Unusual Property With Stables, Covered Riding Arena And Professional Installations To Keep Beasts Of Prey Near Jerez de la Frontera, Cádiz, Spain
Once in a while a very special property comes on the market - like this one!
The farm has an extension of 50.000 m² (12.5 acres) and lies about 15 km to the east of Jerez de la Frontera in rural settings, but close to a busy suburb of Jerez. The farm is entered passing an alley way of palm trees and paddocks for horses on either side. The farm house was built in 1992 and has 233 m² (2,600 sq f) of living space. Besides the master suite with bathroom and dressing room there are three more double bedroom and two baths. The spacious and sun flooded living room with cozy nook and fireplace has direct access to the terrace and the gardens beyond. Life gravitates in the glass covered colonnaded patio which is also accessed from the large kitchen. There also is an office with internet connection and a guest toilet.
The area for the animals is divided into two parts: the stable hall with nine horse boxes adjoins the 15 x 30 meter riding hall which in turn has also access to the farm house. To the right and to the left are large covered areas, one with two more horse boxes and storage for straw and on the opposite side the other with the installations where the owner used to raise white tigers. Attached are several enclosures, one with a small pool and anothe other with a very large pool for the animals. All enclosures are properly fenced and equipped with secure sluice gates. The cheetahs have their own large grounds with trees and shrubs offering the cats a near-natural environment.
Near the stables are three work-shops and store rooms and a 20 x 40 meter open air riding arena as well as a round pen. There are also some pastures for the horses. The animal-keeper lives in a small detached apartment with one bedroom, bath and living room with kitchenette.
If you are not too keen on living with tigers and other predators next to your home the existing installations are also ideally suited for keeping dogs, cats or any other animals, as a pension for animals or a small zoo with animals for children to play with and stroke. It is quite something to sip at a cool drink sitting on the terrace when the sun goes down and listening to the animals!
The property has mains water and electricity. In addition there are two wells in the grounds. Hot water is provided by solar panels or gas heaters.

Miscellaneous:
With pleasure "Mara"s World of Horses" presents to you ed horse properties, fincas, villas and beautiful hotels worldwide - especially in Andalusia/ southern Spain!
on our WEBSITE you will find: villas, houses, townhouses, country and horse properties, studs, farms, and haciendas all over the world and especially in Andalusia! If you are looking for something special - please send us an email to info@mara-lisa.com!

Remarks:
The information of the properties presented on our web site is based on the information given by the owners or the sales representant. We have not seen this property ourselves and have relied on the photos and description given to us. We do not, therefore, accept any responsibility for its contents.
We cannot be held responsible for the correctness and the completeness of the information. The offer is subject to prior sale. Errors reserved.

General business conditions:
The information supplied on this web page is based on representations made by the owner. Consequently, Mara's World Solutions S.L, can not be held responsible for incomplete or incorrect contents. The advertised properties are subject to prior sale.
Please read our General Terms and Conditions. When enlisting our services you confirm having read, understood and accepted our Terms and Conditions.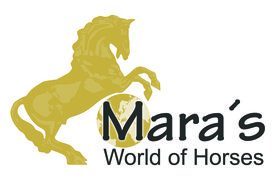 Maras World of Horses - by Maras World Solutions S.L.
Mobile phone:
(0034) 609323347 - (0034) 609608899

Back to the overview