Property 18 from 45

Next property

Previous property

Back to the overview
Segura de la Sierra: Big Spanish hunting property in Jaén, Andalusia, for sale
Property ID: 2008DW
Address:
Camino de la Suerte 13
ES-23379 Segura de la Sierra
Jaén
Andalucía
Plot size:
6.470.000 sq. m.
Bathroom:
Shower, Bathtub, Window
Quality of fittings:
Regular
Construction phase:
House complete
Heating:
Stove heated, Floor
Property description:
Beautiful big 1600 acre working estate set in the Natural Park of the Sierras of Cazorla, Segura y Las Villas. This estate ensures the protection of its natural environment through a careful management programme. It is situated in the Jaén mountain range where there is no noise or light pollution and Granada Airport is a three hour drive away.
There are two houses on the estate. The first farmhouse is 100 years old and has been completely restored in traditional style while incorporating environmentally-friendly technology. It has a solar power, under floor heating and the wood from the estate works as fuel for the fireplaces and stoves.
The cortijo comprises 500m2 on two floors and includes seven double/twin bedrooms, and six bathrooms. Within the communal areas there are two living rooms, a dining room, kitchen, laundry room, library, a games room and a TV room. There is also a massive open fire and two wood burning stoves. In the outside area resides a pergola-shaded terrace with incredible 360-degree views of the natural scenery, a solar-powered-heated pool (with electric cover), a large barbecue and a children's play area, amongst many other things. The cortijo itself is run as a self-catering rental business and is registered by the Andalusian Ministry of Tourism.
The second house was constructed in 1980 and is one floor. It is located in a quiet corner with a mature garden. The house has just been renovated and comprises a large living are which is divided into several separate zones. There are also two large fireplaces and two wood burning stoves. Included are three en-suite bedrooms, and one has a separate annex with two extra single beds. There is also a terraced area with a large fenced garden. This house is ideal for smaller groups.
The entire estate is a private hunting estate where it is possible to shoot wild boars, deers and the Spanish Ibex. Arrangements for hunting parties can also be done.
A Tree House is also available for observing animals. It has been located strategically at a junction of established animal tracks.

In order to protect the privacy of the owner we give only the approximate location of the property on the map. We will be happy to provide further information and photos on request. Proof of capital will be required by the vendor!



ADVICE: When inquiring about a property it is ABSOLUTELY NECESSARY to include your phone number because in case that your e-mail address is erroneous or your  incoming box is full or our mail ends up in your spam folder without your phone number there is no way to contact you. Thank you.

Miscellaneous:
Please take note:
- here you can see quite all horseproperty-offers http://tinyurl.com/Reitimmobilien-weltweit
- immo1click is realizing the advertising in the name of: Maras World Solution S.L., www.mara-lisa.com
- we have not seen this property ourselves and have relied on the photos and description given to us. We do not, therefore, accept any responsibility for its contents.

According to Law in Andalusia, additional costs will be charged to the buyer like VAT, estate transfer tax, costs of public registry of property and notary (official decree 218 - Oct 11th, 2005 'Ficha Informativa')

Remarks:
The information of the properties presented on our web site is based on the information given by the owners or the sales representant. We have not seen this property ourselves and have relied on the photos and description given to us. We do not, therefore, accept any responsibility for its contents.
We cannot be held responsible for the correctness and the completeness of the information. The offer is subject to prior sale. Errors reserved.

General business conditions:
The information supplied on this web page is based on representations made by the owner. Consequently, Mara's World Solutions S.L, can not be held responsible for incomplete or incorrect contents. The advertised properties are subject to prior sale.
Please read our General Terms and Conditions. When enlisting our services you confirm having read, understood and accepted our Terms and Conditions.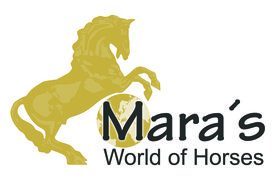 Maras World of Horses - by Maras World Solutions S.L.
Mobile phone:
(0034) 609323347 - (0034) 609608899

Back to the overview