Property 19 from 34

Next property

Previous property

Back to the overview
Archidona: Elegant Finca, Archidona, Andalusia, for sale
Property ID: 2007DW
Address:
ES-29300 Archidona
Málaga
Andalucía
Bathroom:
Shower, Bathtub, Window
Suitable as holiday home:
yes
Number of parking spaces:
1 x Garage
Quality of fittings:
Regular
Construction phase:
House complete
Property description:
Elegant finca situated between Archidona and Villanueva de Tapia. It features 2 hectares of land and an excellent living accommodation for a large family or for guests. Functions as a hotel are also possible.

All amenities are available within six kilometres and both Granada and Malaga airports are a 70km distance away.

The finca includes a kitchen, dining area, a bodega, utility/laundry room, living room, library as well as rear terraces. On the first floor are two bathrooms and the house's 5 bedrooms, with the principal bedroom being en-suite. Added to the finca are also a spacious garage and a saltwater pool.

Externally provided is a two bedroom cottage with a kitchen, bathroom and lounge area. It also has its own terrace and is currently utilised for live-in staff.

The finca also includes facilities with farm elements such as a stable with room for up to 25 horses, a large workshop for tractors and farm equipments, as well as a building which could be utilised for any type of livestock. A horse lunging area is also present.

In order to protect the privacy of the owner we give only the approximate location of the property on the map. We will be happy to provide further information and photos on request. Proof of capital will be required by the vendor!

ADVICE: When inquiring about a property it is ABSOLUTELY NECESSARY to include your phone number because in case that your e-mail address is erroneous or your incoming box is full or our mail ends up in your spam folder without your phone number there is no way to contact you. Thank you.
Miscellaneous:
Please take note:
- here you can see quite all horseproperty-offers http://tinyurl.com/Reitimmobilien-weltweit
- immo1click is realizing the advertising in the name of: Maras World Solution S.L., www.mara-lisa.com
- we have not seen this property ourselves and have relied on the photos and description given to us. We do not, therefore, accept any responsibility for its contents.

According to Law in Andalusia, additional costs will be charged to the buyer like VAT, estate transfer tax, costs of public registry of property and notary (official decree 218 - Oct 11th, 2005 'Ficha Informativa')
Remarks:
The information of the properties presented on our web site is based on the information given by the owners or the sales representant. We have not seen this property ourselves and have relied on the photos and description given to us. We do not, therefore, accept any responsibility for its contents.
We cannot be held responsible for the correctness and the completeness of the information. The offer is subject to prior sale. Errors reserved.

General business conditions:
The information supplied on this web page is based on representations made by the owner. Consequently, Mara's World Solutions S.L, can not be held responsible for incomplete or incorrect contents. The advertised properties are subject to prior sale.
Please read our General Terms and Conditions. When enlisting our services you confirm having read, understood and accepted our Terms and Conditions.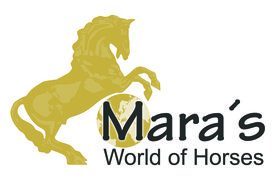 Maras World of Horses - by Maras World Solutions S.L.
Mobile phone:
(0034) 609323347

Back to the overview