Property 9 from 57

Next property

Previous property

Back to the overview
Castilblanco de los Arroyos: Dehesa, farm, Hacienda for sale in Sevilla, Andalusia
Property ID: 14063
Address:
Camino del suerte 10
ES-41230 Castilblanco de los Arroyos
Sevilla
Andalucía
Living space:
1.806 sq. m.
Plot size:
1.000.000 sq. m.
Bathroom:
Shower, Bathtub, Window, Bidet
Suitable as holiday home:
yes
Last renovation/ refurbishment:
2013
Quality of fittings:
Superior
Year of construction:
2013
Construction phase:
House complete
Property description:
Marvellous Gentleman's Farm near Seville
The farm of almost 100 ha ( 250 acres) is a typical Mediterranean pasture (dehesa) with dense growth of oak and cork-oak trees representing thereby high quality grazing and fattening of up to 200 heads of the Iberian pig. You enter the farm after leaving the tarmacked road on a 500 meter long, well maintained private track. The interior of the farm is well communicated with many tracks and lanes giving access to all areas of the farm. On the perimeter of the farm a wide fire break and security zone has been built. The farm is completely fenced and in its interior there are several enclosures of various sizes.
All farm buildings (total built area 20.000 sq f) are less than 6 years old and are in perfect condition. The main house has been designed in the typical andalusian style of a "cortijo" with an area of 1.266 m² (14.000 sq f) enjoying lovely views into the Seville mountain range. The building is grouped around a large open patio of 300 m² and includes 5 double bedrooms, 3 junior suites and the master suite. There are a total of 8 bathrooms. The main lounge (80 m2) boasts an immense 2 x 2 meter open fire place and the other lounge cum dining room (60 m2) equally has an open fire place. The kitchen with dining area (50 m2) is completely fitted and equipped and also has a fire place and an adjoining larder. Finally, there is a 10 m² wine cellar.
The house keeper's house (110 m2) includes three bedrooms, 2 bathrooms, a kitchen and lounge-dining room with adjoining patio.
There is a large garage (30 m2) and a huge swimming pool (40 x 10 meters) with beach. The magnificent 400 m² covered terrace boasts a professional barbecue as well as a generous sitting and dining area. The stable yard includes 8 horse boxes with automatic drinking troughs, a 20 m² tack room, rest rooms, a maintenance room, a store room, horse showers and a 45 m² yard for the horses. The hay and horse feed barn measures 250 m2.
Only the best materials were used in the construction. All rooms have under floor heating as well as warm and cold air-conditioning. All buildings dispose of state-of-the-art security systems.

Miscellaneous:
With pleasure "Mara"s World of Horses" presents to you ed horse properties, fincas, villas and beautiful hotels worldwide - especially in Andalusia/ southern Spain!
on our website http://www.country-properties-worldwide.com/ you will find: villas, houses, townhouses, country and horse properties, studs, farms, and haciendas all over the world and especially in Andalusia! If you are looking for something special - please send us an email to info@mara-lisa.com!

Remarks:
The information of the properties presented on our web site is based on the information given by the owners or the sales representant. We have not seen this property ourselves and have relied on the photos and description given to us. We do not, therefore, accept any responsibility for its contents.
We cannot be held responsible for the correctness and the completeness of the information. The offer is subject to prior sale. Errors reserved.

General business conditions:
The information supplied on this web page is based on representations made by the owner. Consequently, Mara's World Solutions S.L, can not be held responsible for incomplete or incorrect contents. The advertised properties are subject to prior sale.
Please read our General Terms and Conditions. When enlisting our services you confirm having read, understood and accepted our Terms and Conditions.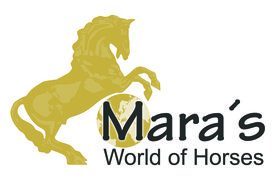 Maras World of Horses - by Maras World Solutions S.L.
Mobile phone:
(0034) 609323347

Back to the overview