Property 1 from 2

Next property

Back to the overview
Saint-Pons-de-Thomières: beautiful country villa with large grounds, France, St. Pons de Thomières for sale
Property ID: i1c2113EG
Address:
FR-34220 Saint-Pons-de-Thomières
Region:
Languedoc-Roussillon
Bathroom:
Shower, Bathtub, Window
Suitable as holiday home:
yes
Quality of fittings:
Regular
Year of construction:
1970
Construction phase:
House complete
Property description:
Stately modern villa with beautiful parkland bordering a stream. Quiet and discreet setting in the center of a village with various shops and facilities between the cities of Castres and St. Pons de Thomières. The beaches of the Mediterranean Sea and the city of Béziers (TGV and international airport including Ryanair) are at approximatively a1 hour's drive away.

The village is part of the natural "Parc Naturel du Haut Languedoc" with its many recreational facilities such as "La Voie Verte" from which one can bike about 70 kilometers without traffic, on a former rail way.
Mazamet's unique and beautiful golf club is situated in less than a half an hour's drive away.

This very sustainable constructed property finds its origins in the late 1960s and is built with very high-quality materials. A few years ago, the house was adapted to contemporary UK standards by maintaining its original charms. For example, the kitchen has been replaced and several bathrooms have been renovated. In addition, the entire house has been equipped with new double-glazed windows offering a high insulation value. The house is equipped with a central heating system and a central vacuum cleaner system.
The property very well maintained and" ready to move into".
The house is characterized by its spacious and bright rooms and includes 7 bedrooms, 5 bathrooms, a very large living-dining room (72 m²!) with a beautiful open fireplace, a library and a very spacious basement level with parking space for multiple vehicles and the possibility to create, for example, a fitness and relax room.
The kitchen is equipped with luxury appliances such as Induction Cooktops, a large range hood, a dishwasher, micro-wave, oven and an XL double doored fridge. The master bedroom has its own walk-in wardrobe room and attached luxury bathroom with double sink furniture, walk-in shower and hydro massage bathtub. The other bathrooms are also equipped with luxury showers.

The unique garden with a total surface of 12,958 m² is a real asset to this yet very beautiful property. In perfect rest and privacy, it borders a stream that completes the property. Access is obtained via a small bridge, which flows into a paved driveway with a sliding gate. The fenced plot is located on a South facing hill and offers space for a beautiful lawn, numerous flower beds and an adult vegetation with several very old trees (such as Cedar and Larix ) : which gives the impression that one is enjoying a very ancient park. The garden is equipped with an irrigation system and various light points. Numerous are the natural stone walls and the terraces that make it possible to fully enjoy the Southern French climate.

Due to its spacious dimensions and its unique location, near the amenities but also close to nature, this "belle demeure" is very well suited as a permanent residence but also offers the opportunity to consider other possibilities such as the creation of a elegant B&B.

Exclusive offer - Viewings by appointment.

In order to protect the privacy of the owner we give only the approximate location of the property on the map.

ADVICE: When inquiring about a property it is ABSOLUTELY NECESSARY to include your phone number because in case that your e-mail address is erroneous or your incoming box is full or our mail ends up in your spam folder without your phone number there is no way to contact you. Thank you.

Miscellaneous:
Please take note:
- immo1click is realizing the advertising in the name of the agent: Eugéne de Graaf - we will send your contact details directly to Mr. de Graaf who will contact you!
- we have not seen this property ourselves and have relied on the photos and description given to us. We do not, therefore, accept any responsibility for its contents.

Remarks:
The information of the properties presented on our web site is based on the information given by the owners or the sales representant. We have not seen this property ourselves and have relied on the photos and description given to us. We do not, therefore, accept any responsibility for its contents.
We cannot be held responsible for the correctness and the completeness of the information. The offer is subject to prior sale. Errors reserved.

General business conditions:
The information supplied on this web page is based on representations made by the owner. Consequently, Mara's World Solutions S.L, can not be held responsible for incomplete or incorrect contents. The advertised properties are subject to prior sale.
Please read our General Terms and Conditions. When enlisting our services you confirm having read, understood and accepted our Terms and Conditions.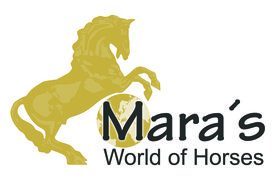 Maras World of Horses - by Maras World Solutions S.L.
Mobile phone:
(0034) 609323347 - (0034) 609608899

Back to the overview