Property 13 from 51

Next property

Previous property

Back to the overview
Curia: Countryhouse, professional horse-equestrian-property, Portugal, Aveiro, Curia, for sale!
Property ID: 15036
Address:
PT-3780-541 Curia
Type of object:
Horse ranch
Quality of fittings:
Regular
Surroundings:
Bus, Shopping facilities, Elementary school, Kindergarten, Quiet area, Police, Playground, Close to the beach, Residential area
Number of parking spaces:
6 x Garage
Drive to nearest motorway:
10 Minute(s)
Property description:
Countryhouse, professional horse-equestrian-property, Portugal, Aveiro, Curia, for sale!
Located in central Portugal near Tamengos, 11 km from the A1 motorway, it has a very practical accessibility. Plus, at less than 1 Km, there are top quality schools, shops, restaurants and 5 supermarkets. 5 km away we have Curia Thermal station, which offers plenty of Hotels, extremely useful during weekend competitions.
The older part of the farm, with a size of approximately 10.000 m2, is wall fenced, and trough the years was transformed into an equestrian centre with all the facilities and equipment. The newest part, of 40.000 m2, is protected by an electric fence and surrounded by a small river.
The old house, from late XVIII century, has two floors measuring 360 m² each, and an attic with170 m2. There are 4 big bedrooms, 3 suites, 3 bathrooms, a small and a big kitchen, small and big dining rooms, office, laundry, veranda and two big living rooms. Part of the house has double glass PVC windows. Electrical system was reinforced in all first floor rooms. There is space for 4 cars in the garage.
The small house was rebuilt in 1970 and it has 2 floors with a total of 250 m2. It has 3 rooms and 1 suite, 2 bathrooms, a big living/dining room terrace, kitchen and laundry. 2 covered areas for wood storage, and garage for 2 cars. The windows and glass doors are double glassed PVC and aluminium. Has central heating installed.
Connecting with the old house there is a big solarium and a swimming pool, another office, cloaks rooms, 3 bathrooms that connect with the small riding arena 30 m x 15 m which is at the moment used as a walker machine and hay storage.
Next door there is a veterinarian clinic, a total of 26 boxes from 9 m² to 16 m2, tacking areas, washing area, 2 big tack rooms, 1 electric solarium, food storages, manure transporter belt to a 30 m3 container and a 60 m x 20 m covered school. There are also 2 paddocks and storage area for tractors, jumps and competition equipment.
The outside area is divided in several paddocks - electrically fenced - more than 50% watered with sprinklers. Water is abundant, it is provided by a 60 m deep well, which works with a pressure pumping station. There are portable restrooms and bars, Jury box in the grass surface competition arena, the warm up and free jumping area have sand surface. The parking area has electrical connection for the lorries. This area is perfectly fit to organize competitions or receive retired horses or broodmares. The most important competition hosted here was the Open European Para-dressage Championship 2002 with 18 countries.
The farm is surrounded and decorated by hundreds of beautiful trees and bushes from over 50 different species.
Note: All roofs have been repaird in 2015. the Old house is sold with 50% of the fourniture. Total area 50.000m2, total covered area 4000m2

Miscellaneous:
With pleasure "Mara"s World of Horses" presents to you ed horse properties, fincas, villas and beautiful hotels worldwide - especially in Andalusia/ southern Spain!
on our WEBSITE you will find: villas, houses, townhouses, country and horse properties, studs, farms, and haciendas all over the world and especially in Andalusia! If you are looking for something special - please send us an email to info@mara-lisa.com!

Remarks:
The information of the properties presented on our web site is based on the information given by the owners or the sales representant. We have not seen this property ourselves and have relied on the photos and description given to us. We do not, therefore, accept any responsibility for its contents.
We cannot be held responsible for the correctness and the completeness of the information. The offer is subject to prior sale. Errors reserved.

General business conditions:
The information supplied on this web page is based on representations made by the owner. Consequently, Mara's World Solutions S.L, can not be held responsible for incomplete or incorrect contents. The advertised properties are subject to prior sale.
Please read our General Terms and Conditions. When enlisting our services you confirm having read, understood and accepted our Terms and Conditions.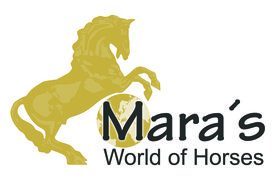 Maras World of Horses - by Maras World Solutions S.L.
Mobile phone:
(0034) 609323347

Back to the overview