Property 1 from 1

Back to the overview
Pisa: Italy, province Pisa - wonderful large land with 68 ha for sale
Property ID: 2339
May be developed from:
Built according to construction plan
Property description:
TOSKANA, Provinz Pisa
68 ha Traum-Grundstück mit Produktionskomplex (zB Olivenöl oä), der Möglichkeit ein Haus zu bauen und ideal für Pferde + Agroturismus
68 ha dream plot with production complex (eg olive oil or similar), the possibility to build a house and ideal for horses + agrotourism
Parcela de ensueño de 68 ha con complejo de producción (por ejemplo aceite de oliva o similar), posibilidad de construir una casa e ideal para caballos + agroturismo.
- 68 ha (davon 50 ha Wald,4 ha Olivenplantage, 2 ha Obstplantage mit Bewässerungssystem, 12 ha Weideland) - 68 ha (including 50 ha of forest,4 ha of olive plantation, 2 ha of orchard with irrigation system, 12 ha of pasture land) - 68 ha (de las cuales 50 ha de bosque, 4 ha de olivar, 2 ha de plantación de frutales con sistema de riego y 12 ha de pastos)
- moderner Produktionskomplex mit Kühlraum uvm - modern production complex with cold storage room etc. - Moderno complejo de producción con almacén frigorífico, etc.
- 2 Ruinen die wieder aufgebaut werden können - 2 ruins that can be rebuilt - 2 ruinas que se pueden reconstruir -
- Baupläne für ein Haus mit ca 350 m² mit Nebentrakt für Agroturismus vorhanden - Building plans for a house with approx 350 m² with annex for agroturism available - Planos de construcción de una casa de aprox. 350 m² con anexo para agroturismo disponibles -
- eigene Quelle, sowie Anschluss an Gemeindewasser - own spring, as well as connection to municipal water - manantial propio, así como conexión al agua municipal

In order to protect the privacy of the owner we give only the approximate location of the property on the map. We will be happy to provide further information and photos on request.
Proof of capital will be required by the vendor!

ADVICE: When inquiring about a property it is ABSOLUTELY NECESSARY to include your phone number because in case that your e-mail address is erroneous or your incoming box is full or our mail ends up in your spam folder without your phone number there is no way to contact you. Thank you.



Miscellaneous:
Please take note:
- here you can see quite all horseproperty-offers http://tinyurl.com/Reitimmobilien-weltweit
- immo1click is realizing the advertising in the name of: Maras World Solution S.L., www.mara-lisa.com
- we have not seen this property ourselves and have relied on the photos and description given to us. We do not, therefore, accept any responsibility for its contents.

Remarks:
The information of the properties presented on our web site is based on the information given by the owners or the sales representant. We have not seen this property ourselves and have relied on the photos and description given to us. We do not, therefore, accept any responsibility for its contents.
We cannot be held responsible for the correctness and the completeness of the information. The offer is subject to prior sale. Errors reserved.

General business conditions:
The information supplied on this web page is based on representations made by the owner. Consequently, Mara's World Solutions S.L, can not be held responsible for incomplete or incorrect contents. The advertised properties are subject to prior sale.
Please read our General Terms and Conditions. When enlisting our services you confirm having read, understood and accepted our Terms and Conditions.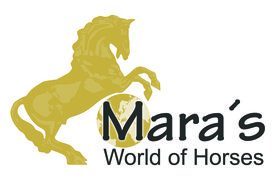 Maras World of Horses - by Maras World Solutions S.L.
Mobile phone:
(0034) 609323347

Back to the overview