Property 28 from 34

Next property

Previous property

Back to the overview
Vegadeo: a horselovers equestrian hotel , house, in Asturia, nothern Spain, for sale!
Property ID: 14037
Address:
Camino del suerte 10
ES-33770 Boal
Asturias
Principado de Asturias
Type of object:
Horse ranch
Available from:
free to go in
Commission Rate:
no buyer comission
Quality of fittings:
Regular
Year of construction:
2002
Heating:
Floor, Central heating
Property description:
a horselovers equestrian hotel in Asturia, nothern Spain, for sale!
Situated in the north-west corner of Asturias between Gijón and A Coruña this magnificent property is the ideal starting point for exciting and unforgettable riding excursion into the surrounding mountains and to the nearby coast ( 20 km) of the Atlantic Ocean. Indigenous forests interspersed with open fields and with the back drop of the snow-capped mountains of the Sierra de Meira offer an awe inspiring scenery for the adventurous horse man. The property encompasses grounds of approximately 7 acres dotted with chestnut and many other trees. The three story house and the stables were built about 12 years ago with a floor space of 400 m2 (4,400 sq f) and are presently operated as a small equestrian hotel with 7 guest rooms including 3 junior suites all with bathroom en-suite. The house, built against the sloping terrain, is entered on the middle floor where the owner's apartment (85 m2/930 sq f) and one guest room as well as the entrance hall are situated. Two more guest accommodation, the laundry room and a lobby are on the lower floor and the remaining 4 guest rooms are on the third floor. The house has central heating (the owner's apartment has under-floor heating), mains electricity, water and sewage. Nearby are the stables with 4 horse boxes, tack and feed room. The property is the co-owner of a 500 ha neighborhood park offering stunning riding tracks and on the property itself are also four large paddocks available.
This beautiful property is sold fully furnished and equipped and also including the share in the use and the logging rights of the neighborhood park.

Remarks:
The information of the properties presented on our web site is based on the information given by the owners or the sales representant. We have not seen this property ourselves and have relied on the photos and description given to us. We do not, therefore, accept any responsibility for its contents.
We cannot be held responsible for the correctness and the completeness of the information. The offer is subject to prior sale. Errors reserved.

General business conditions:
The information supplied on this web page is based on representations made by the owner. Consequently, Mara's World of Horses, S.A. can not be held responsible for incomplete or incorrect contents. The advertised properties are subject to prior sale.
Please read our General Terms and Conditions. When enlisting our services you confirm having read, understood and accepted our Terms and Conditions.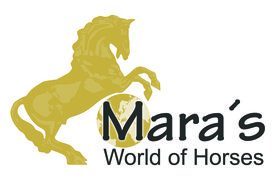 Maras World of Horses - by Maras World Solutions S.L.
Mobile phone:
(0034) 609323347

Back to the overview