Property 9 from 62

Next property

Previous property

Back to the overview
Sevilla: luxury modern country estate Coto Donana Sevilla Andalucia for sale
Property ID: 15003JG
Address:
ES-41001 Sevilla
Andalucía
Living space:
1.200 sq. m.
Bathroom:
Shower, Bathtub, Window, Bidet
Suitable for disabled people:
yes
Suitable for the elderly:
yes
Quality of fittings:
Luxury
Construction phase:
House complete
Available from:
free to go in
Floor covering:
Tiles, Granite
Property description:
When we think we've seen just about everything, suddenly we find this excellent contemporary property surrounded by the pine forests of Doñana Natural Park.... A place full of peace, harmony among best cut architecture and nature in case ...
This property includes about 70 hectares of olive and orange trees perfectly integrated in its environment.
The house is a well maintained contemporary design, clean lines, mixed materials: concrete, teak wood, large windows, exterior slate flooring, iron ... definitely a modern house incorporating the natural environment from outside to the interior.
Their owners were determined to give it the best: interior marble flooring, teak floor terrace, floor heating, zoned air conditioning, ....
The house revolves around a central courtyard in which stands an ancient olive tree. Entering is a bright and spacious lounge overlooking the garden and pool. The lounge leads onto a large terrace with long views over the olive, orange and pine trees on the horizon.
Apart from the living room, the house has a library, a good kitchen, 4 bedrooms with bathroom, TV room and a spectacular music room perfectly soundproof and equipped to listen to music of the highest quality. Giving the courtyard there is a study.
It is noteworthy that this house is 35 kms. from the Atlantic Ocean. This means that every afternoon comes the sea breeze that cools the environment and creates a unique micro climate.
On the perimeter there are two houses for personel.
It is well connected to some 35 kms from Sevilla, most of the route by motorway
HERE
you can see all fotos, the description and the video of this property directly on the
website of Mara's World of Horses
Miscellaneous:
With pleasure "Mara"s World of Horses" presents to you ed horse properties, fincas, villas and beautiful hotels worldwide – especially in Andalusia/ southern Spain!
on our
WEBSITE
you will find: villas, houses, townhouses, country and horse properties, studs, farms, and haciendas all over the world and especially in Andalusia! If you are looking for something special – please send us an email to info@mara-lisa.com!
Remarks:
The information of the properties presented on our web site is based on the information given by the owners or the sales representant. We have not seen this property ourselves and have relied on the photos and description given to us. We do not, therefore, accept any responsibility for its contents.
We cannot be held responsible for the correctness and the completeness of the information. The offer is subject to prior sale. Errors reserved.

General business conditions:
The information supplied on this web page is based on representations made by the owner. Consequently, Mara's World of Horses, S.A. can not be held responsible for incomplete or incorrect contents. The advertised properties are subject to prior sale.
Please read our General Terms and Conditions. When enlisting our services you confirm having read, understood and accepted our Terms and Conditions.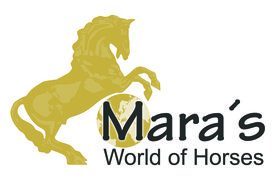 Maras World of Horses - by Maras World Solutions S.L.
Mobile phone:
(0034) 609323347 - (0034) 609608899

Back to the overview