Property 40 from 57

Next property

Previous property

Back to the overview
Jerez de la Frontera: Countryhouse with little vinyard near Jerez de la Frontera, Andalusia for sale
Property ID: 17027
Address:
ES-11406 Jerez de la Frontera
Cádiz
Andalucía
Subject to commission:
yes
Commission Rate:
buyerscommission 2.42 % incl IVA
Kitchen:
Fitted kitchen, Open, Pantry
Suitable for disabled people:
yes
Suitable for the elderly:
yes
Suitable as holiday home:
yes
Surroundings:
Bus, Quiet area
Quality of fittings:
Regular
Construction phase:
House complete
Available from:
free to go in
Type of heating system:
Alternative, Electric
Property description:
Countryhouse with little vinyard near Jerez de la Frontera, Andalusia for sale
This superb property lies just 10 minutes from the center of Jerez de la Frontera. The totally flat land comprises 4.5 ha (11.25 acres) of which 3.5 ha are dedicated to the vineyard with 15.000 grape stocks and the remaining 10.000 m2 are reserved for the farm building, parking and unused land (about 8.000 m2/2 acres). The vineyard includes the grapes of four different varieties: merlot, shiraz, cabernet-sauvignon and tintilla. The average annual production is between 20.000 and 60.000 bottles of wine depending on the quality the owner tries to achieve.
The farm building is a U-shaped complex with a large interior paved patio. One wing consists of the main flat with a gross constructed area of 200 m2 including three bedrooms, a large family bathroom, lounge with fireplace, kitchen and covered terrace. The opposite wing of the U contains a lovely converted stable with 90 m2 and an extra-large lounge with an attractive fire place, a spacious open-plan kitchen and a comfortable double bedroom and bath. Both flats have air conditioning warm/cold installed. The center part of the U are two very large covered spaces (85 m2) and open to the patio with no specific use presently and which could easily be converted into two comfortable guest apartments. In addition the U building includes two spacious storage facilities.
The property is easily accessed on a tarmacked road. The farm is connected to city water, but also has two wells and is connected to the agricultural irrigation system. There is mains electricity and the main flat uses gas for hot water and cooking. The farm is completely fenced with an electric gate at the entrance and an interior perimeter track reaching each corner of the farm. The unused 2 acres of land can easily be converted into a riding center with stables, manège and round pen. An ideal place to build a small B&B

Please take note:
- at the signing of the notarial deed (closing) a broker's fee of 2% + 21% VAT has to be paid from the buyer!

Remarks:
The information of the properties presented on our web site is based on the information given by the owners or the sales representant. We have not seen this property ourselves and have relied on the photos and description given to us. We do not, therefore, accept any responsibility for its contents.
We cannot be held responsible for the correctness and the completeness of the information. The offer is subject to prior sale. Errors reserved.

General business conditions:
The information supplied on this web page is based on representations made by the owner. Consequently, Mara's World of Horses, S.A. can not be held responsible for incomplete or incorrect contents. The advertised properties are subject to prior sale.
Please read our General Terms and Conditions. When enlisting our services you confirm having read, understood and accepted our Terms and Conditions.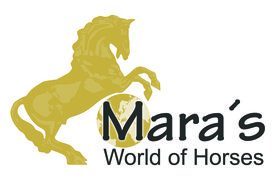 Maras World of Horses - by Maras World Solutions S.L.
Mobile phone:
(0034) 609323347

Back to the overview