Property 5 from 56

Next property

Previous property

Back to the overview
Arcos de la Frontera: dalusian farm, finca, countryhouse near Arcos de la Frontera (Junta de los Rios), for sale
Property ID: 17028
Address:
ES-11630 Arcos de la Frontera
Cádiz
Andalucía
Bathroom:
Shower, Bathtub, Window
Suitable for the elderly:
yes
Suitable as holiday home:
yes
Quality of fittings:
Regular
Construction phase:
House complete
Available from:
free to go in
Type of heating system:
Alternative
Property description:
Andalusian farm, finca, countryhouse near Arcos de la Frontera (Junta de los Rios), for sale
The farm lies in a small hamlet about 20 minutes from the town center of Jerez de la Frontera and 5 min. drive from Arcos de la Frontera. It is one of the typical Franco era small farms which were given to the poor people so that they could live of the land but had to hand over 75% of the harvest to the government in lieu of payment for the farm. The Family and their children carried out several renovations over the years, the last one in the year 2.000 and now the family offers this comfortable little farm for sale.
There are 6 ha (15 acres) of very fertile flat land where any crop or fruit trees can be grown. The water for the irrigation of the fields comes from a large lake about 30 km away and in addition the farm has two own wells and is also connected to city water. Electricity is available from the local utility.
The farm is completely flat and accessed from a well maintained tarmacked road. There are two buildings: the main house with 200 m2 of construction has 4 bedrooms and one family bath, a large living room with open fireplace and kitchen.
The house and its large terrace are surrounded by a 2 meter high wall which is dotted with several fruit trees on its perimeter.
There is also a second building with about 100 m2 built and which used to be the stables but have now been converted into three bedrooms and a large bathroom. This building can be be finished to become a generous and comfortable rental flat.
The nearest restaurants, shops for the daily needs, pharmacy etc. are just 5 minutes away. Jerez de la Frontera and its international airport can be reached in under 30 minutes. An excellent investment for the hobby farmer and also with B&B potential. The farm is sold completely furnished and equipped.

Remarks:
The information of the properties presented on our web site is based on the information given by the owners or the sales representant. We have not seen this property ourselves and have relied on the photos and description given to us. We do not, therefore, accept any responsibility for its contents.
We cannot be held responsible for the correctness and the completeness of the information. The offer is subject to prior sale. Errors reserved.

General business conditions:
The information supplied on this web page is based on representations made by the owner. Consequently, Mara's World of Horses, S.A. can not be held responsible for incomplete or incorrect contents. The advertised properties are subject to prior sale.
Please read our General Terms and Conditions. When enlisting our services you confirm having read, understood and accepted our Terms and Conditions.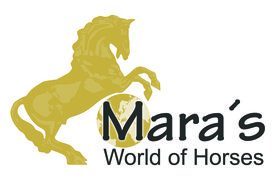 Maras World of Horses - by Maras World Solutions S.L.
Mobile phone:
(0034) 609323347 - (0034) 609608899

Back to the overview