Property 11 from 51

Next property

Previous property

Back to the overview
Pueblo: large horseranch with 4 E2 Visa inclusive for sale in Colorado, Pueblo
Property ID: i1c18019
Type of object:
Horse ranch
Available from:
free to go in
Commission Rate:
no buyer comission
Quality of fittings:
Regular
Property description:
You would like to realize your personal big dream of horse business and ranch life in the west of the USA, in Colorado? Then you've come to the right place!
The most important thing right at the beginning - with the Equestrian Center, 4 E2 visas (2 for the owners and 2 for trainers / managers - only those who have already tried to obtain a US visa, a residence permit, or a Green Card and could not meet these very high visa requirements, know how much these investor visas are worth!
The ranch stands on 320,000 square meters of land and is very conveniently located for traffic.
There are 135 horse stalls in 5 buildings, 8 paddocks / year-round paddocks for approx. 10 horses each, 20 portable stables, 2 round pens, one riding hall with 37x73 m and one riding hall with 22x48 m, 2 outdoor courts, 1 western outdoor court with 46 x 107 m, a very large storage hall for hay and feed (sufficient for an annual supply) and a very large 10 garage facility including a workshop and still much space, for the guests with their own horses, who arrive to the most different events and large tournaments. Also only horse overnight guests, who are on the transit, are always thankful for first-class and relaxing night accommodations.
A detailed description of the many individual buildings that would really go beyond the scope, so, through the pictures, get a first impression of the size of the property, this unique Colorado Equestrian Center.
The Equestrian Center, the ranch, is located at the foot of the mighty and famous mountain, Pikes Peak (4,233 meters) in Colorado.
From Colorado Springs Airport, on Highway I-25 southbound, it takes just 30 minutes to get directly to the ranch at exit 119, and you can't miss it.
....
if you would like to read the detailed description please send us a contact request!

Miscellaneous:
immo1click realized the advertising of this properties for:
"Mara's World of Horses" – selected horseproperties and countryhouses worldwide – website http://www.country-properties-worldwide.com/

Notice: Please take note that we have not seen this property ourselves and have relied on the photos and description given to us. We do not, therefore, accept any responsibility for its contents.

Remarks:
The information of the properties presented on our web site is based on the information given by the owners or the sales representant. We have not seen this property ourselves and have relied on the photos and description given to us. We do not, therefore, accept any responsibility for its contents.
We cannot be held responsible for the correctness and the completeness of the information. The offer is subject to prior sale. Errors reserved.

General business conditions:
The information supplied on this web page is based on representations made by the owner. Consequently, Mara's World Solutions S.L, can not be held responsible for incomplete or incorrect contents. The advertised properties are subject to prior sale.
Please read our General Terms and Conditions. When enlisting our services you confirm having read, understood and accepted our Terms and Conditions.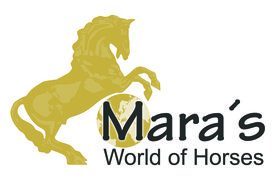 Maras World of Horses - by Maras World Solutions S.L.
Mobile phone:
(0034) 609323347

Back to the overview