Property 5 from 51

Next property

Previous property

Back to the overview
Bissendorf: Luxury equestrian property, Lower Saxony, near Osnabrueck for sale
Property ID: i1c19001
Address:
DE-49143 Osnabrück
Niedersachsen
Subject to commission:
yes
Commission Rate:
buyer comission of 5 % + VAT
Useable area:
4.170 sq. m.
Kitchen:
Fitted kitchen, Open
Bathroom:
Shower, Bathtub, Window
Quality of fittings:
Luxury
Construction phase:
House complete
Property description:
absolut luxury Equestrian Property, Germany, Lower Saxony, near Osnabrueck for sale!
• 80.000 qm/sqm/m2 Grundstück – land – terreno
• Rennbahn
• Luxus-Landhaus mit Innen- und Aussenschwimmbad sowie Wellnessbereich mit Sauna, Solarium und Fitnessraum
• 4 separate Wohnungen zb für Angestellte + 4 separate Zimmer für zB Praktikanten
• 28 Luxus-Pferdeboxen - luxury horseboxes - cuadras de lujo
• 2 Führanlage: 20x50 m für 20 Pferde, 18 m Drm für 8 Pferde
• 20x60 m Dressurplatz - dressage arena - pista externa dressage
• 70x80 m Springplatz - arena for show jumping - pista de salto
• 80x100 m Derbyplatz - cross country arena - pista estilo Derby
• 20x60 m Reithalle mit Tribüne - intern riding arena - pista cubierta
• 11x14 m Freilaufhalle - intern arena - pista cubierta
• luxuriöses Reiter-Casino - luxury casino - casino de lujo

Sorry, but we want to respect the privacy of the seller and - therefore we can not put fotos or more description in the internet - but - please send us an email and we will send you all information! thank you!

Here you can see all our equestrian properties on a Map: http://tinyurl.com/Reitimmobilien-weltweit

Miscellaneous:
immo1click realized the advertising of this properties for:
"Mara's World of Horses" – selected horseproperties and countryhouses worldwide – website http://www.country-properties-worldwide.com/

Commission Rate:
Please note: at the signing of the notarial deed (closing) a broker's fee of 5 % + VAT has to be paid from the buyer! Proof of capital will be required by the vendor!
Remarks:
The information of the properties presented on our web site is based on the information given by the owners or the sales representant. We have not seen this property ourselves and have relied on the photos and description given to us. We do not, therefore, accept any responsibility for its contents.
We cannot be held responsible for the correctness and the completeness of the information. The offer is subject to prior sale. Errors reserved.

General business conditions:
The information supplied on this web page is based on representations made by the owner. Consequently, Mara's World Solutions S.L, can not be held responsible for incomplete or incorrect contents. The advertised properties are subject to prior sale.
Please read our General Terms and Conditions. When enlisting our services you confirm having read, understood and accepted our Terms and Conditions.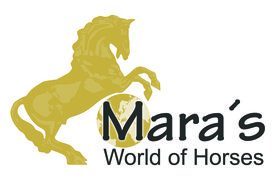 Maras World of Horses - by Maras World Solutions S.L.
Mobile phone:
(0034) 609323347

Back to the overview