Property 19 from 51

Next property

Previous property

Back to the overview
Vejer de la Frontera: Andalusia, Vejer de la Frontera - finca to renovate
Property ID: 2237AA
Address:
ES-11150 Vejer de la Frontera
Cádiz
Andalucía
Subject to commission:
yes
Commission Rate:
at the signing of the notarial deed (closing) a b
Property description:
ANDALUSIA, Costa de la Luz, 19 km von Vejer de la Frontera
quiet situated finca with beautiful view and house to renovate, ideal for horse keeping
- ~ 24.142 m2/sqm/m2 Grundstück - land - 2,41 ha terreno
- ~ 280 m² im Register eingetragene Wohnfläche - living area entered in the register - espacio habitable inscrito en el registro
- das Haus ist in diesem Zustand kaum bewohnbar und müsste renoviert werden - the house is hardly habitable in this condition and would have to be renovated - la casa apenas es habitable en este estado y habría que reformarla
- Brunnen - well - pozo
- die Stromversorgung muss über Photovoltaik erfolgen - the power supply would have to be provided by a photovoltaic system - el suministro de energía tendría que ser proporcionado por un sistema fotovoltaico
- grosse Garage - large garage - garaje grande
- schönes Gelände, ideal für Pferde oä - beautiful terrain, ideal for horses - un hermoso terreno, ideal para los caballos o similares
- gutes Ausreitgelände - good riding terrain - buen terreno para montar
- Ref 2237AA
In order to protect the privacy of the owner we give only the approximate location of the property on the map. We will be happy to provide further information and photos on request.
Proof of capital will be required by the vendor!

Here you can see all our equestrian properties offered by Maras World of Horses on a Map: http://bit.ly/ReitimmobilienGoogleMap

ADVICE: When inquiring about a property it is ABSOLUTELY NECESSARY to include your phone number because in case that your e-mail address is erroneous or your incoming box is full or our mail ends up in your spam folder without your phone number there is no way to contact you. Thank you.

Miscellaneous:
Please take note:
- at the signing of the notarial deed (closing) a broker's fee of 2,5% + 21% VAT has to be paid from the buyer!

- here you can see quite all horseproperty-offers http://tinyurl.com/Reitimmobilien-weltweit

- immo1click is realizing the advertising in the name of: Maras World Solution S.L., www.mara-lisa.com

According to Law in Andalusia, additional costs will be charged to the buyer like VAT, estate transfer tax, costs of public registry of property and notary (official decree 218 - Oct 11th, 2005 'Ficha Informativa')

Commission Rate:
at the signing of the notarial deed (closing) a broker's fee of 2,5% + 21% VAT has to be paid from the buyer
Remarks:
The information of the properties presented on our web site is based on the information given by the owners or the sales representant. We have not seen this property ourselves and have relied on the photos and description given to us. We do not, therefore, accept any responsibility for its contents.
We cannot be held responsible for the correctness and the completeness of the information. The offer is subject to prior sale. Errors reserved.

General business conditions:
The information supplied on this web page is based on representations made by the owner. Consequently, Mara's World Solutions S.L, can not be held responsible for incomplete or incorrect contents. The advertised properties are subject to prior sale.
Please read our General Terms and Conditions. When enlisting our services you confirm having read, understood and accepted our Terms and Conditions.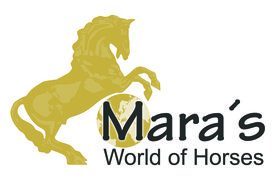 Maras World of Horses - by Maras World Solutions S.L.
Mobile phone:
(0034) 609323347

Back to the overview