Property 6 from 7

Next property

Previous property

Back to the overview
Itzehoe: new built equestrian centre for sale, Germany, Schleswig Holstein, Itzehoe
Property ID: i1c2013KR
Address:
DE-25524 Itzehoe
Steinburg
Schleswig-Holstein
Type of object:
Horse ranch
Available from:
free to go in
Subject to commission:
yes
Commission Rate:
buyer comission of 5 % + VAT
Quality of fittings:
Superior
Year of construction:
2020
Property description:
SCHLESWIG HOLSTEIN, Landkreis Steinburg, nahe Itzehoe (Map)
new built equestrian property for sale in Germany, Schleswig-Holstein near Itzehoe
• 45.000 qm Grund - 11.12 acres land - 4.5 ha terreno
• es gibt kein Wohnhaus jedoch kann bei Bedarf entweder das angrenzende Grundstück mit Haus oder ein Bauplatz mit 1.500 qm ca. 300 m entfernt hinzugekauft werden
• über dem Stallgebäude besteht die Möglichkeit eine Wohnung mit ca 130 qm auszubauen - over the stables you can build an apartment of 130 sqm
• 18 Pferdeboxen, davon 5 gemauerte (ideal für Hengste) - 18 horseboxes - 18 cuadras para caballos
• 7 der Pferdeboxen haben Paddocks 4x5 mtr - 7 of the boxes has paddocks - 7 de las cuadras tienen paddock
• 2 Solarien mit Waschplatz, Aufenthaltsraum, Sattelkammer, Toiletten
• 20x60 m Reithalle - indoor arena - escuela hipica interior
• 20x60 m Aussenreitplatz - extern arena - pista externa
• Führanlage für 7 Pferde mit Drm 20 mtr und innenliegendem Longierplatz - walker for 7 horses with indoor lounging - caminador para 7 caballos y pista para cuerda integrada
• Ref. i1c2013KR
In order to protect the privacy of the owner we give only the approximate location of the property on the map. We will be happy to provide further information and photos on request.
Proof of capital will be required by the vendor!

Here you can see all our equestrian properties offered by Maras World of Horses on a Map: http://bit.ly/ReitimmobilienGoogleMap

ADVICE: When inquiring about a property it is ABSOLUTELY NECESSARY to include your phone number because in case that your e-mail address is erroneous or your incoming box is full or our mail ends up in your spam folder without your phone number there is no way to contact you. Thank you.

Miscellaneous:
Please take note:
- at the signing of the notarial deed (closing) a broker's fee of 6.05 % incl VAT has to be paid from the buyer!
- immo1click is realizing the advertising in the name of: Maras World Solution S.L., www.mara-lisa.com
- we have not seen this property ourselves and have relied on the photos and description given to us. We do not, therefore, accept any responsibility for its contents.

Commission Rate:
brokersfee 6.05 % incl. VAT to be paid from buyer


Remarks:
The information of the properties presented on our web site is based on the information given by the owners or the sales representant. We have not seen this property ourselves and have relied on the photos and description given to us. We do not, therefore, accept any responsibility for its contents.
We cannot be held responsible for the correctness and the completeness of the information. The offer is subject to prior sale. Errors reserved.

General business conditions:
The information supplied on this web page is based on representations made by the owner. Consequently, Mara's World Solutions S.L, can not be held responsible for incomplete or incorrect contents. The advertised properties are subject to prior sale.
Please read our General Terms and Conditions. When enlisting our services you confirm having read, understood and accepted our Terms and Conditions.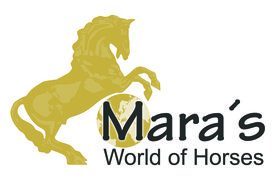 Maras World of Horses - by Maras World Solutions S.L.
Mobile phone:
(0034) 609323347

Back to the overview