Property 1 from 4

Next property

Back to the overview
Wien: Equestrian property, riding centre, near Vienna for sale
Property ID: 2348BN
Address:
A-1010 Wien
Innere Stadt
Type of object:
Horse ranch
Subject to commission:
yes
Quality of fittings:
Superior
Property description:
modern outdoor and open stable concept riding facility, built to the highest standards with several living facilities, riding halls and riding arenas

- ~ 158.999 m² Grund - 15,8 ha land/ terreno
- 4 Gebäude für Pferdehaltung (Pferdeboxen mit und ohne Paddocks und Offenstallungen) - 4 buildings for horse keeping (horse stalls with and without paddocks and open stables) - 4 edificios para la cría de caballos (establos con y sin corrales y cuadras abiertas)
- 2 Reithallen 20x40 m + 20x60m - 2 indoor riding arenas - 2 pistas internas
- Longierhalle inklusive Führanlage - Lunging hall including horse walker - Sala de pulmón con andador para caballos
- 2 Lagerhallen - 2 warehouses - 2 naves
- 4 Reitplätze (Springen, Dressur, Western) - 4 riding arenas (jumping, dressage, western) - 4 picaderos (salto, doma, western)
- großzügige Koppeln auf insgesamt 16 ha Grundfläche - spacious paddocks on a total area of 16 hectares - Amplios prados en una superficie total de 16 hectáreas
- 15 großzügige Sattelkammern - 15 spacious tack rooms - 15 espaciosos guadarnés
- Waschplätze (2mal Warmwasser indoor und 1mal Kaltwasser Outdoor) - Washing places (2 times hot water indoor and 1 time cold water outdoor) - Lavaderos (2 interiores de agua caliente y 1 exterior de agua fría)
- Solarium, beheizte Tränken, Belmondo Matten usw. - Solarium, heated watering troughs, Belmondo mats, etc. - Solarium, bebederos calefactados, colchonetas Belmondo, etc.
- Wohnanlage mit drei luxuriösen Apartments für Betreiber und Einsteller mit Terrassen und hervorragendem Burgruinen-Blick - Residential complex with three luxurious apartments for operators and adjusters with terraces and excellent view of the castle ruins - Complejo residencial con tres lujosos pisos para operarios y ajustadores con terrazas y excepcionales vistas a las ruinas del castillo
- Garderoben inklusive Bad mit Duschen - Wardrobes including bathroom with showers - Guardarropa con cuarto de baño con ducha
- zweistöckiges Restaurant einschließlich aller Nebenräume (Damen und Herren - WC, Kühlhaus usw.) inklusive großzügiger Sonnenterrasse mit Blick auf die Burgruine Markgrafneusiedl - two-story restaurant including all ancillary rooms (ladies and men's rooms - WC, cold storage, etc.) including a spacious sun terrace with a view of the Markgrafneusiedl castle ruins - Restaurante de dos plantas con todas las salas auxiliares (aseos de señoras y caballeros, cámara frigorífica, etc.), incluida una amplia terraza soleada con vistas a las ruinas del castillo de Markgrafneusiedl
- Romantischer Weinkeller - Romantic wine cellar - Bodega romántica
- Bürogebäude mit Pfleger-Appartements - Office building with nurse apartments - Edificio de oficinas con pisos para cuidadores
- Errichtungswert der Anlage im zweistelligen Millionenbereich - Construction value of the plant in the double-digit million range - Valor de construcción de la planta en el rango de dos dígitos millones
- zu betonen ist dass alle Teilbereiche der Anlage hochwertigst errichtet worden sind jedoch ... es besteht ein umfassender Reinigungsbedarf, sowie müssen Nachbesserungen im Umfang von geschätzt 0,5 Mio. Euro berücksichtigt werden. Die Anlage steht fast leer und wurde zuletzt überwiegend als Offenstallhaltung betrieben. Eine Übernahme der Anlage ist sofort möglich! - - It must be emphasized that all parts of the facility have been built to the highest standards, but ... there is a need for extensive cleaning, as well as rework to the tune of an estimated 0.5 million euros. The facility is almost empty and was last operated mainly as an open stable. A takeover of the property is immediately possible! - - Hay que subrayar que todas las partes de la instalación se han construido con un alto nivel de calidad, sin embargo... es necesario realizar una limpieza exhaustiva, así como obras de reparación por un valor estimado de 0,5 millones de euros. La instalación está casi vacía y la última vez que funcionó fue principalmente como establo abierto. ¡La adquisición de las instalaciones es posible de inmediato!

In order to protect the privacy of the owner we give only the approximate location of the property on the map. We will be happy to provide further information and photos on request.
Proof of capital will be required by the vendor!

ADVICE: When inquiring about a property it is ABSOLUTELY NECESSARY to include your phone number because in case that your e-mail address is erroneous or your incoming box is full or our mail ends up in your spam folder without your phone number there is no way to contact you. Thank you.


Miscellaneous:
Please take note:
- here you can see quite all horseproperty-offers: http://bit.ly/ReitimmobilienGoogleMap
- immo1click is realizing the advertising in the name of: Maras World Solution S.L., www.mara-lisa.com
- we have not seen this property ourselves and have relied on the photos and description given to us. We do not, therefore, accept any responsibility for its contents.

Remarks:
The information of the properties presented on our web site is based on the information given by the owners or the sales representant. We have not seen this property ourselves and have relied on the photos and description given to us. We do not, therefore, accept any responsibility for its contents.
We cannot be held responsible for the correctness and the completeness of the information. The offer is subject to prior sale. Errors reserved.

General business conditions:
The information supplied on this web page is based on representations made by the owner. Consequently, Mara's World Solutions S.L, can not be held responsible for incomplete or incorrect contents. The advertised properties are subject to prior sale.
Please read our General Terms and Conditions. When enlisting our services you confirm having read, understood and accepted our Terms and Conditions.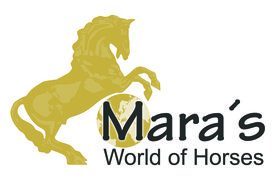 Maras World of Horses - by Maras World Solutions S.L.
Mobile phone:
(0034) 609323347

Back to the overview